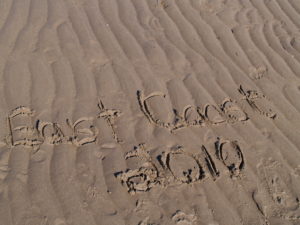 We have been trying to celebrate Canada Day in a different Canadian city since 2008. For this year, all Canadian National Parks are free to visit in honour of Canada's 150th Birthday! I ordered my pass a couple months ago online at Parks Canada. I highly suggest taking advantage of this perk and enjoying some our country's greatest wonders!
In 2010, we ventured out to the East Coast. We took the kids and mom in law on one of our most favourite trips ever to New Brunswick, Prince Edward Island and Nova Scotia!  Those were the pre iPhone and wifi days for me, so finding pictures for this blog was a bit of a challenge. I had some saved to my portable hard drive, but most were developed and put into an album I can't find! I didn't want that stopping me from writing this post. I hope to find the album soon, as we're in the midst of spring cleaning and decanting the house! I'll definitely add key pics once I find that precious album.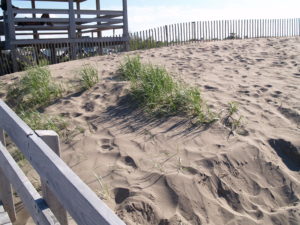 We didn't go to Newfoundland on this trip, but I have gone as a teenager. My favourite places to visit there were Deerlake, Corner Brooke, and Gros Morne National Park. I plan to take my family to NewFoundland soon and I know they'll love all three of these sites as much as I did when I was 16.
What we loved most about the East Coast, were the people! We met some of kindest Canadians who were warm and welcoming. Anyone who has been to any of these provinces will agree that the kindness of the East Coast folk compares to none. They have mastered it and we love them for that. They are people who are always smiling and happy to lend a helping hand.
How did we travel?
Ideally, I would recommend visiting the East Coast over two weeks. We were a little limited on time and did it in one week. It was one of the most relaxing trips we have done as a family.
We flew and road tripped back in June 2010.  We opted to fly via Porter Airlines to Moncton, New Brunswick and rented a car at the airport for the remainder of our trip. If we had more time, driving from Toronto would have been possible, but we only had seven days, so flying to New Brunswick allowed us to maximize our time.
Did the kids drive us nuts on the road trip? OF COURSE THEY DID!!! They're kids! We didn't have iPads at the time, so it was singing, playing games and whining all the way! Personally, I think my kids gained a lot from not having an iPad on this trip. They actually looked out the window and we enjoyed fantastic conversations over lunch and dinner!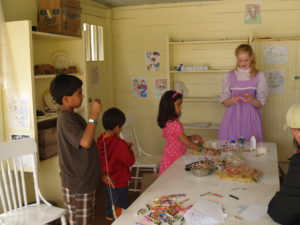 Where Did We Stay?
Moncton, New Brunswick : We stayed at the Residence Inn. We had six of us, including my mother in law and three children, so the Residence Inn was a practical hotel choice. To be honest there aren't very many fancy hotel choices and this one suited us just fine. Our room was equipped with a kitchenette. This is great when travelling with young children or larger families. Sometimes food options can be limited and the kitchenette allows for simple meal prep like pasta, sandwiches and salads. This hotel is currently rated as a 4.5 star hotel.
Halifax, Nova Scotia: We stayed at the Hampton Inn. This was a newer hotel at the time and accommodated our family nicely. It is located downtown and is close to many shops and restaurants. This hotel is currently rated as a 4.5 star hotel.
Prince Edward Island: I tried looking up where we stayed in 2010, but I can't find it and nor can I remember. As a teenager, my uncle rented a cute cottage which accommodated us all. I would highly  recommend doing this. There are so many beautiful cottages available close to a beach. A website I recently took a look at and found to be useful is Home Away. This site provides a wide variety of rental properties available based on your needs. I also recently discovered that Chef Michael Smith has a beautiful inn he owns with his wife. You might want to check it out!
What Did We Do?
Day 1 and 2: Arrived in Moncton, New Brunswick.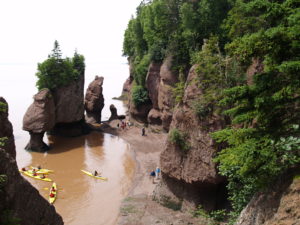 Our first stop in the East Coast was Moncton, New Brunswick.  We stayed in Moncton for two nights. We visited Bay of Fundy National Park. I had been here as a teenager and the high and low tides amazed me so much I wanted my family to share my experience. The water can rise to above 12 metres. The amazing thing about this area is that you can walk on the sand during low tide and you can go on a kayak ride during high tide! The Bay of Fundy is truly a treasure of the East Coast.
[smartslider3 slider=6]
Day 3 & 4: Drove to Prince Edward Island. We stayed in Cavendish.
Driving to Prince Edward Island was an amazing experience. I have to admit I felt a little nervous driving on the Confederation Bridge. This bridge was completed in 1997 to connect the Eastern provinces of PEI and New Brunswick. When I was young, we would take the ferry across. The construction of the bridge has made things more efficient. The bridge is curved and is 12.9 kilometres long. It is the longest in the world. For almost 13 kilometres all you can see on either side is WATER!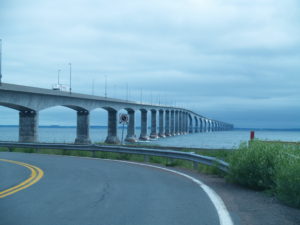 What amazed us the most about this beautiful island was how red the soil was. It's no surprise that the biggest industry in PEI is potatoes. The soil there is very rich. We tried some amazing potato chips you'll only find in PEI.
We visited Green Gables. This is the infamous house where local author Lucy Maud Montgomery, drew her inspiration for her novel Anne of Green Gables.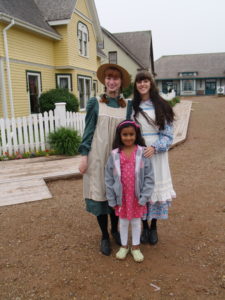 We also visited Avonlea Village. If you loved reading the book as a youngster, you'll appreciate visiting this village if you have time. There is no charge. The Village takes you back in time and places you in a setting much like in Montgomery's book.  Here you'll find the schoolhouse, the Minister's residence and the 1872 Historic Long River Church, Avonlea Village offers replications of houses and shops from the time of Anne of Green Gables. It's worth a visit if you have extra time.
We took a tour of the famous ice cream factory COWS.  This ice-cream can be found all over Canada and it originates in PEI. We all loved this stop on our holiday!
We didn't have enough time, but I really wanted to go to Summerside to see some Celtic Dancing. If you have time on your trip, you'll appreciate the Celtic culture that is still maintained on the island.
The beaches in PEI are beautiful and rich with red sand.
[smartslider3 slider=7]
Day 5 & 6: Drove to Halifax, Nova Scotia.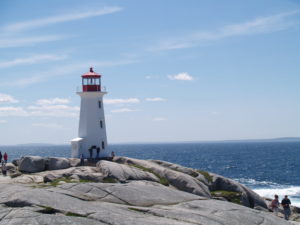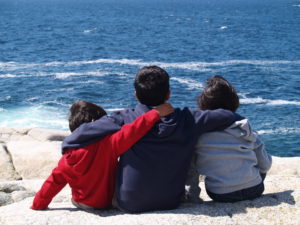 We were very lucky to be able to stay in Halifax for Canada day. We started our two day visit with a drive to Peggy's Cove and the Swissair Memorial site. Peggy's Cove is about an hour's drive from Halifax. You cannot go to Nova Scotia and not visit this beautiful and relaxing fishing village.  It is one of the most popular stops on the Atlantic Coast. The lighthouse and village at Peggy's Cove are landmarks I'm sure many of you have seen in magazines and postcards. It is definitely one of our country's biggest gems.
NOTE: If you are travelling with young children, please keep them close. The waves of the Atlantic Ocean are very unpredictable on the rocks.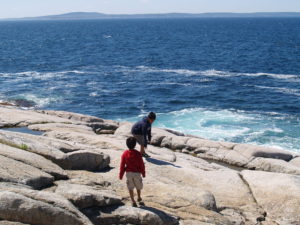 On day two of our trip it was July 1st, Canada Day. We spent our day in Halifax, the capital of the province. We enjoyed the Canada Day festivities taking place throughout  the city. We also had the opportunity to visit the Naval Museum and take the kids on a sailboat tour. They loved it! The tour was very interactive and allowed for the children to take part in controlling the sails.
We ended our evening with fireworks downtown over the waterfront. It was definitely a magical and very memorable evening for us all.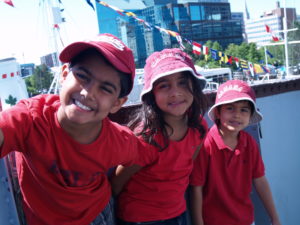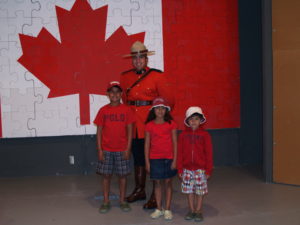 If we had more time, we would have loved to have hiked the
Cabot Trail
. Unfortunately, we only had a week and the Cabot Trail is about a five hour drive from Halifax.  We would have needed three to five days for the Cabot Trail alone.  We'll just have to come back to this beautiful province again!
Day 7: Drove back to Moncton. Stayed one night in Moncton at the same hotel before flying back to Toronto.
Where did we eat?
We didn't have too much trouble finding vegetarian options on the East Coast. I do recall dining at an Indian restaurant in Moncton and an Indian and Thai restaurant in Halifax. Italian options were great in all three provinces.
I hope you find this blog useful in planning your trip to the east coast! Happy 150th Canada!??
Please follow and like us: