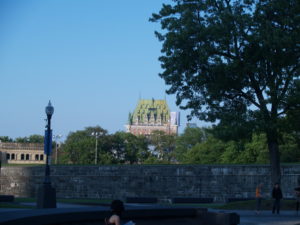 As a tribute to the wonderful country we live in, I thought I would post about one of my favourite cities in Canada! That would be none other than Québec City! It's a fortified city rich in history, romance, fun and adventure.  Whether you are young or old, this is a place you are guaranteed to fall in love with.  I have been to Québec City several times. For me it's always been like a little taste of Europe in Canada. The cobblestone streets, quaint restaurants, artists, street vendors and performers all make for a great experience. For any of you making plans for upcoming long weekends and summer vacation spots, Quebec city should be at the top of your list!
Our first trip to Québec City with the kids was back in 2011. So this post is definitely a "throwback" to say the least! We took the kids and my mother in law, so that should help you in deciding whether it is a place for you to visit. All of Quebec City is so picturesque. No matter whether you're walking around or just taking in the sites by sitting with a coffee or ice-cream on one of the many benches, you will love this city.
Where did we stay?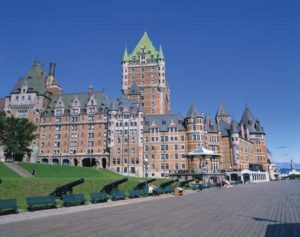 There are many wonderful hotels and quaint inns to stay at.  On this particular trip we stayed at the Château Frontenac. We had never stayed here before, and its one of the biggest landmarks of the city. It is located within the walls of Old Québec sitting next to the St. Lawrence River. The old world architecture, charm and heritage has been so well maintained that it has been designated a UNESCO World Heritage Site.
How long did we stay?
I would recommend two to three nights. As long as you get at least three full days, you'll get a good taste of the city.
What did we do?
Visited Montmorency Falls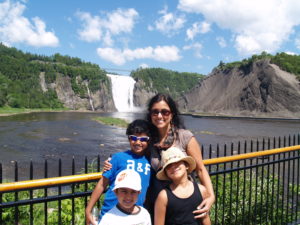 Montmorency Falls are a few minutes drive from Québec City. I would put this site as one of your top things to do when visiting Québec City. The falls are 83 meters high (30 meters higher than Niagara Falls). If walking is an issue, don't worry, you can discover the beautiful falls by cable car or from the restaurant at the top of the mountain. My mother in law took in the sites via cable car and we took our energetic kids via hiking and staircase. The views are simply breathtaking!
Scroll through to see what we did!
[smartslider3 slider=5]
Took a horse carriage ride around Old

Québec
We all loved this method of seeing Old Québec! Being taken around the city by horse and carriage made us feel like we were going back in time. Our guide was excellent too. He captivated both the children and the adults with his knowledge of the city.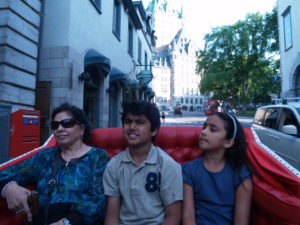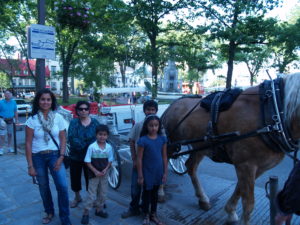 This requires a lot of walking. If you don't think you can manage walking, you can take a one day hop-on, hop-off bus tour. There are so many beautiful shops and restaurants with local crafts and food. Although the shops are up to date the cobble stone streets and fortified walls make you feel like you've gone back in time.  We also had the opportunity to see many street performers who pulled us into their shows!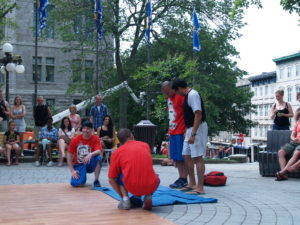 Shopped and Walked in Old Québec
Main shopping area is on Rue Saint-Jean in Old Québec. Even if you are just window shopping, it is a beautiful street to walk down with lots of shops, restaurants and coffee shops.
Walking around the Chateau Frontenac in the evening is very picturesque. If you don't feel like making reservations for dinner, you can walk by a number of beautiful restaurants with floral patios welcoming you. The hustle and bustle of the tourists and artisans create an ambience one would only expect to experience in Paris.  Many of the artists display their work along a narrow stretch of street called Rue du Trésor. Which translated means Street of Treasures, and treasure you will surely find here.  Our two favourite souvenirs from our trip to Québec City were a portrait of our three children, done by a chalk artist, and our medieval chess set.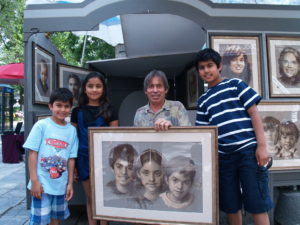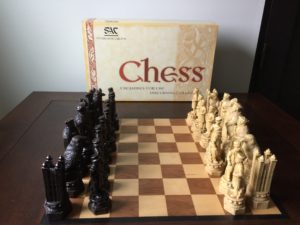 Scroll through to see what we did!
[smartslider3 slider=4]
Where did we eat?
Since we did this trip six years ago, I can't quite remember all the restaurants we dined at. However there were a few that really stood out!:)
Café de Paris : We loved this restaurant for both it's food and atmosphere. It was very veggie friendly, kid friendly and entertaining too. There were musicians singing and playing the accordion and they also gave us spoons to smack on our thighs. A very fun and interactive dining experience!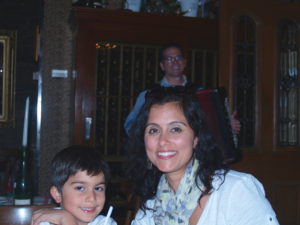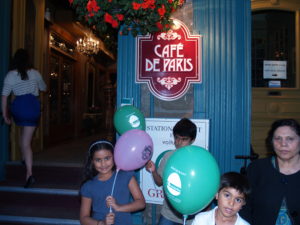 Restaurant Le Petit Château : This cute little creperie is located right next door to the Château Frontenac. We had some amazing chocolate fondu and crepes here.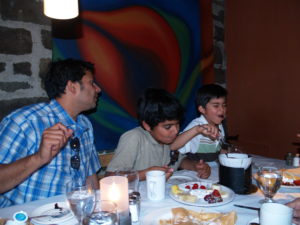 Café Terrasse La Nouvelle-France

: They don't have a website, but you can find them on Trip Advisor. It's been six years since we were last here, so I can't quite remember what we ate here, but I do remember it being veggie friendly. It is situated in the heart of all the action and has a beautiful patio.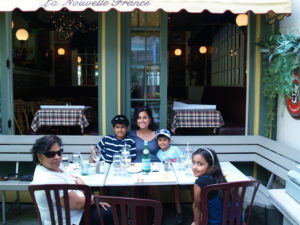 Paillard: Great place to go to for breakfast, lunch, coffee and snacks.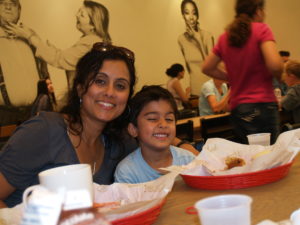 I hope this post encourages you to make a trip to Quebec City this year. Trust me you won't be disappointed!
Please follow and like us: