By popular demand, I have been asked by many friends who are planning their summer vacations to post our trip to Portugal. We went on a family trip to Portugal for nine days back in 2014 for March Break. We broke our trip up into three parts, we stayed in Cascais, Lagos and Lisbon. We covered a lot of Portugal this way with the limited time that we had.
How did we get around?
My husband and I both got our international licenses from CAA before leaving Canada. You'll read in most travel books and websites that driving in Portugal is nightmare. That is not true at all. They drive on the same side as us in Portugal and I booked an automatic vehicle well in advance.
We rented our car from the airport and returned it before arriving in Lisbon. You DO NOT need a car in Lisbon and parking is a nightmare.
Where did we stay in Cascais?
Three Nights in Cascais: We stayed at the beautiful Sheraton Cascais Resort .
At the time we stayed at this hotel it was called the Vivamarinha Hotel and Suites. I would rate the accommodations as 4 to 4.5 star.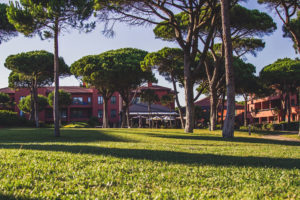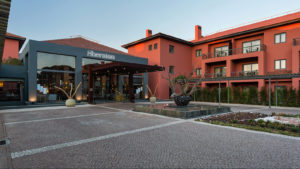 This hotel was well equipped for our family of five. We booked a suite with two bedrooms, a sitting area and a kitchenette. We had breakfast included in our package. It had everything we needed. It was close to shopping, restaurants, touristy sites, landmarks and the ocean!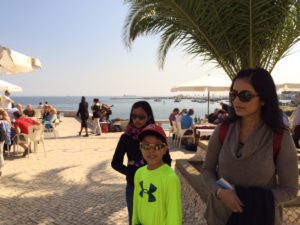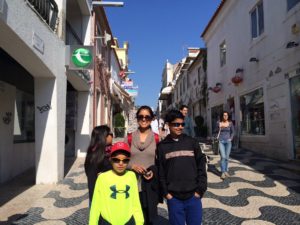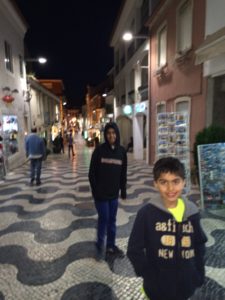 What did we do in Cascais?
Cascais was an amazing place to stay because it's a coastal city close to the ocean and it's centrally located to many amazing sites such as Boca do Inferno, Sintra, and Castelo dos Mouros.
Boca do Inferno:  We parked our car in Cascais and walked to this amazing site. This is a cliff formation situated 1.5km from Cascais.  It is also known as Hell's Mouth. The force of the Atlantic Ocean has carved out a beautiful open cave. It's beautiful any time of day.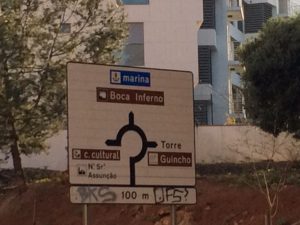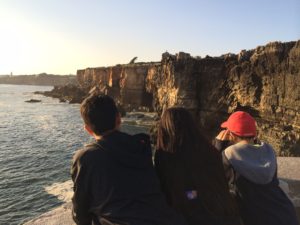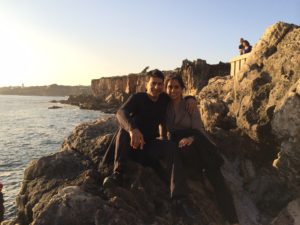 Cabo da Roca : These rocks mark the most westerly point of mainland Europe.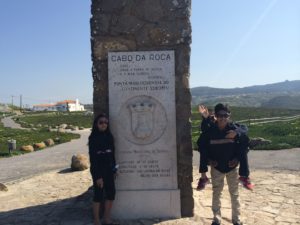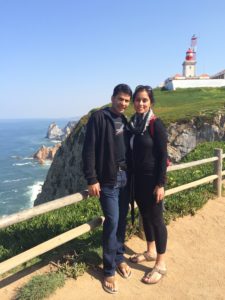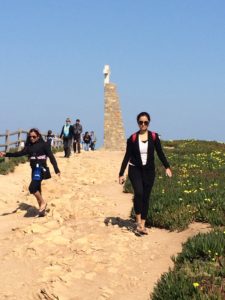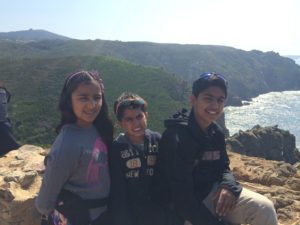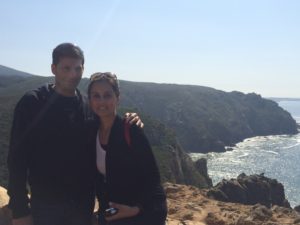 Sintra is a half hour drive from Cascais. It's a beautiful picturesque town situated between pine covered hills. We parked our car at the bottom of the hill which is also the center of town and hiked our way to the palaces and castles. We started our day early and were lucky to find some amazing cafes for breakfast and cappuccinos! BOM DIA (Good Morning)!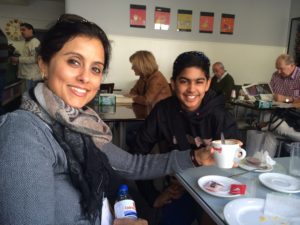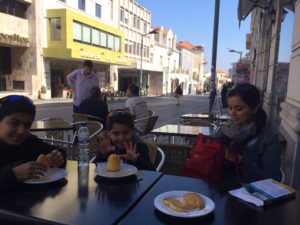 There are many historic buildings and gardens to explore here. Some of the biggest highlights are the beautiful Pena Palace,  Castelo dos Mouros (Moors Castle), Palacio Nacional (National Palace) and the Fonte da Sabuga . You will notice alot of Indian and Arabic influence in the architecture here. You may also see a peacock or two.
Our hike to the Moors Castle from the centre of Sintra!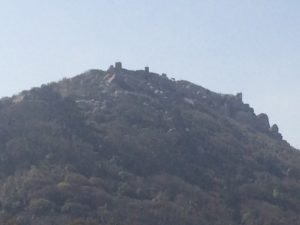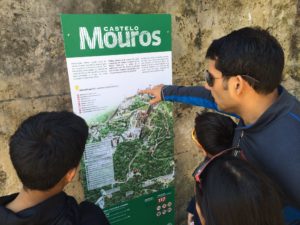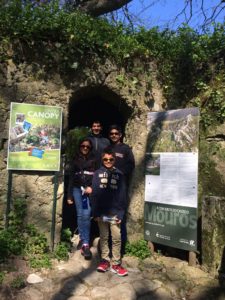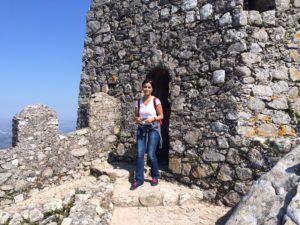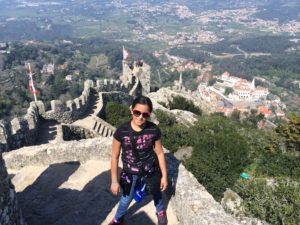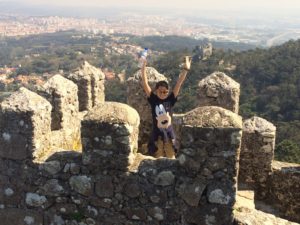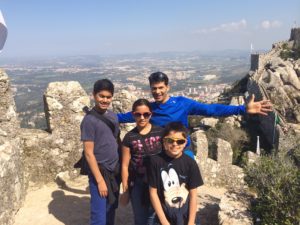 Pena Palace: This beautiful palace sits on the top of the hill in Sintra.  It exemplifies the 19th century Romanticism style of architecture.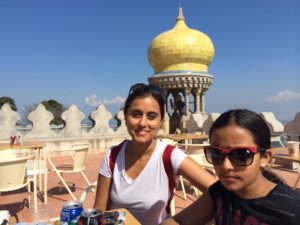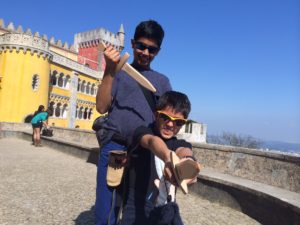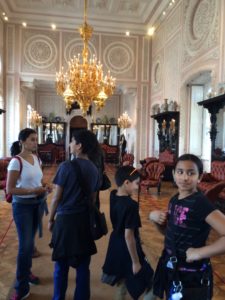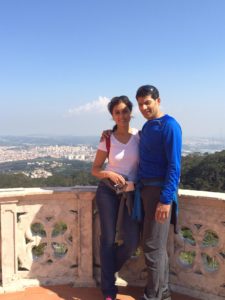 Kids enjoyed filling up their bottles with fresh spring water from the Fonte Sabuga. We found this fresh water spring on our hike up to Moors Castle.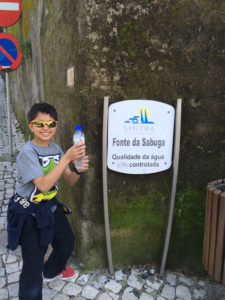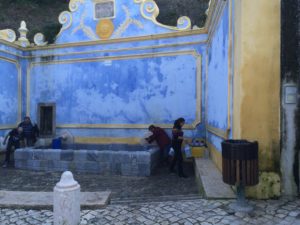 We came back down into the center of Sintra for lunch at an Italian restaurant overlooking the town. Some of us practiced how to say things in Portuguese! BOA TARDE (Good Afternoon)!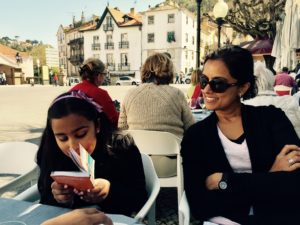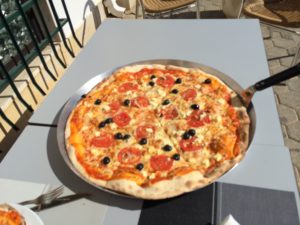 Where did we stay in Lagos?
We stayed at the Belmar Spa and Beach Resort. We stayed here for four nights. Again, this hotel accommodated our family of five nicely. We booked a two bedroom suite with a kitchenette. The kitchenette was handy in the mornings for breakfast. There are local grocery stores near by.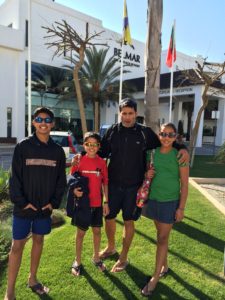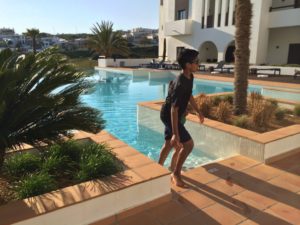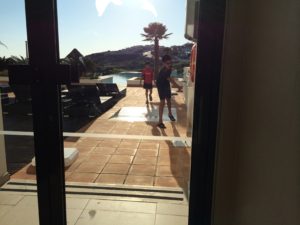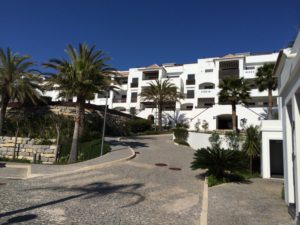 What did we do in Lagos?
This is the infamous area known as the Algarves.  Algarve in Portuguese is beach, but some of the best beaches are in Lagos. It was a little chilly for the beach in March, but the kids still had a blast.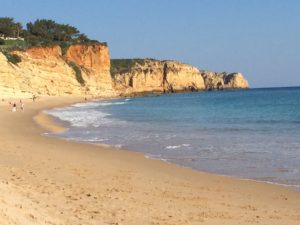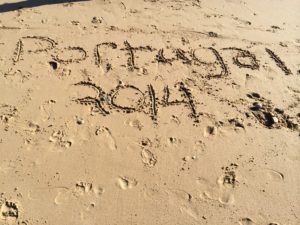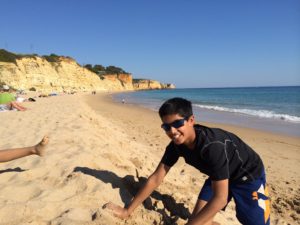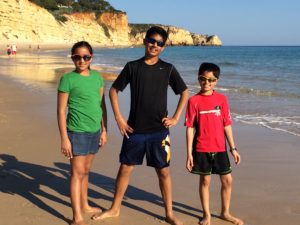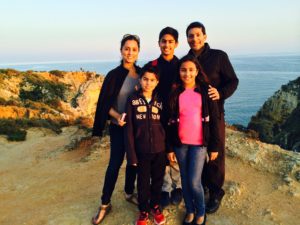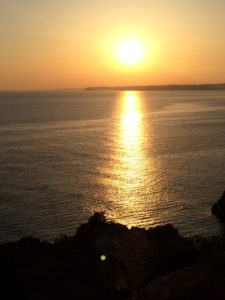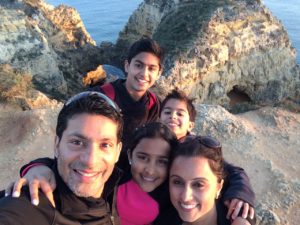 We hiked down to the Algarve and met a very friendly and experienced fisherman who offered to take us on a boat tour of the Algarve. This allowed us to enjoy the rock formations and caves up close.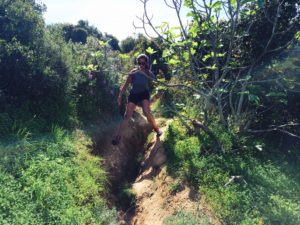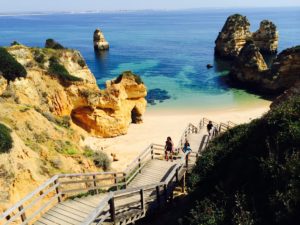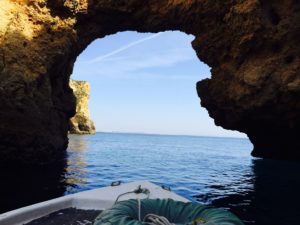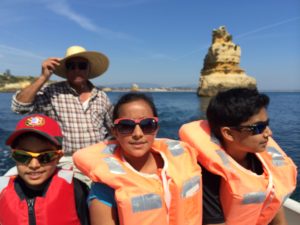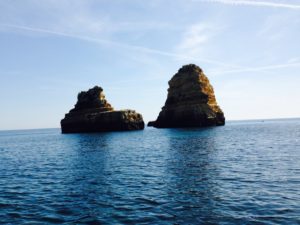 We also booked a bike tour along the country side close to the Algarve in Lagos.  The name of our bike tour company was Outdoor Tours. This was one of our most memorable experiences in Portugal. The tour guides picked us up from our hotel and drove us out to a very safe area to bike.They were excellent and definitely deserve a five star rating! Although we didn't use it, they provided a van to follow us in the case of anyone getting tired or injured on the ride.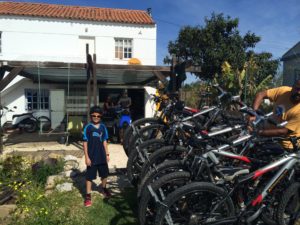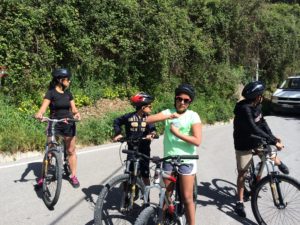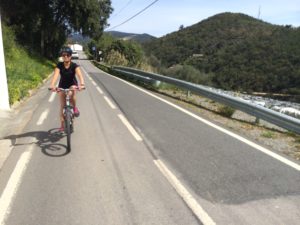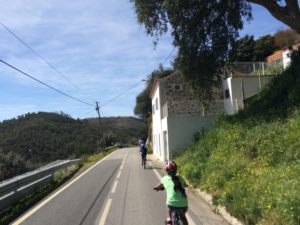 The scenery through the small villages were breathtaking! We passed by orange and lemon trees, and sampled some oranges along the way.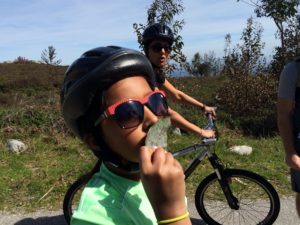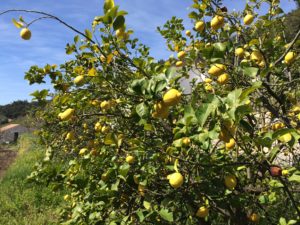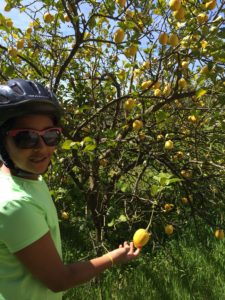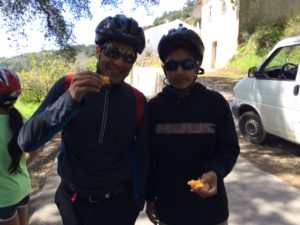 Our tour guide arranged for an authentic Portuguese lunch in one of the villages. They were very accommodating to vegetarians. We had Caldo Verde (Portuguese green vegetable soup) and delicious vegetarian sandwiches infused with oregano.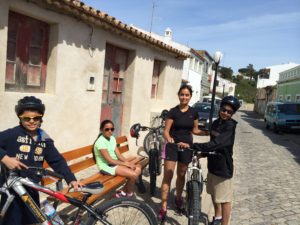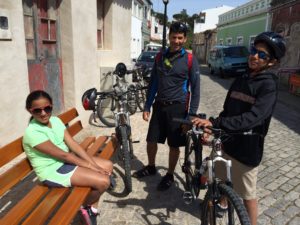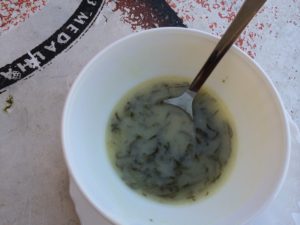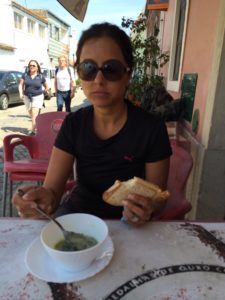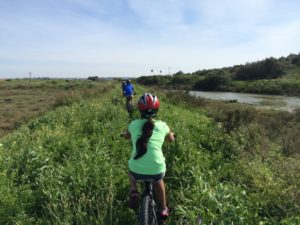 Where did we stay in Lisbon?
We booked the Clarion Suites. We stayed in Lisbon for 2 nights. If staying with children,  2 nights is more than enough. If you are going with friends or as a couple and have extra time, staying longer would allow you to enjoy the night scene in Lisbon.  I loved this hotel because it accommodated all five of us in one room. Finding rooms in the city that accommodate more than two or three people is very hard to find. I booked the three bedroom suite for the five of us. It also had a kitchenette.
What did we do in Lisbon?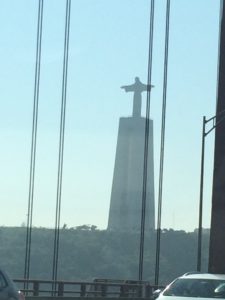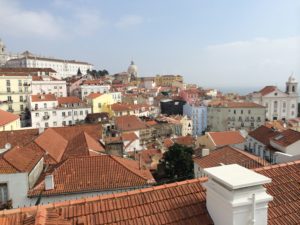 Hop on Hop Off tour : Highly recommend especially if you are short on time and would like to maximize seeing all the sites. There are a few different tours, see which one suits your needs best. If you are only staying in Lisbon, I highly recommend taking a tour which included Sintra and Cabo da Roca. Sintra and Cabo da Roca are two must see sights when visiting Portugal.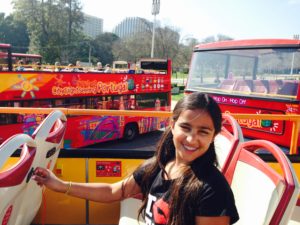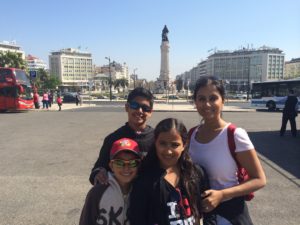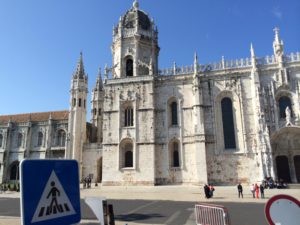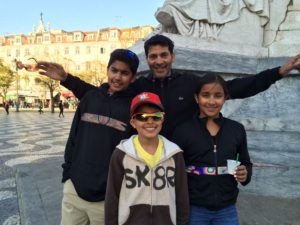 Shopping : The shopping in Lisbon is amazing! So many amazing stores. Everything from souvenirs to designer labels. Top place to go for shopping in Lisbon is the Chiado District. As a tourist, I like going where there is some old world charm and character. Here not only will you have amazing shopping, but you'll also have the chance to experience fantastic cafes, restaurants and street entertainers.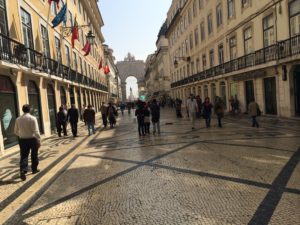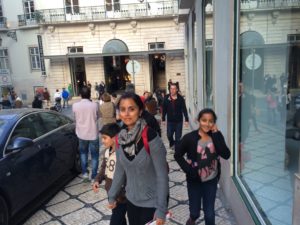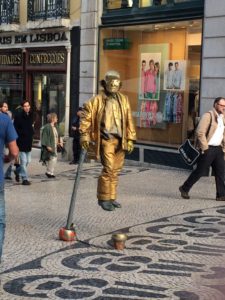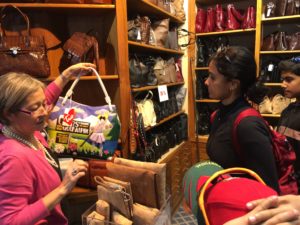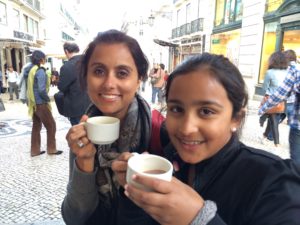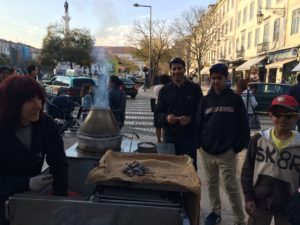 St. George's Castle:This is another Moorish castle overlooking the city of Lisbon.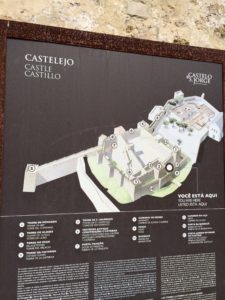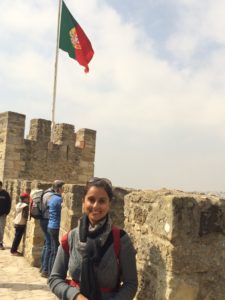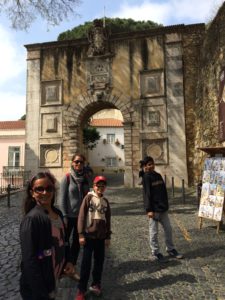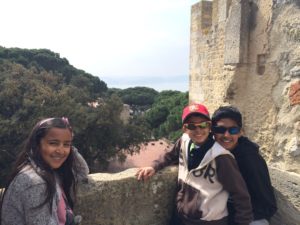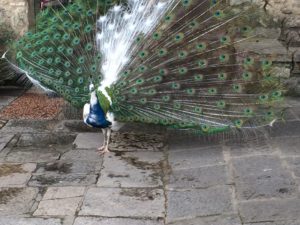 Where did we eat in Portugal?
Many of the tourists in Portugal are from the United Kingdom. As a result, there are a lot of Indian and Italian lrestaurants. The Brits love their Indian food and as vegetarians, we love it too. There are a lot of vegetarian options with Indian cuisine. We also dined at many different Italian restaurants. In Lisbon, we came across some great burger joints too. As a vegetarian, we did not find food to be an issue in Portugal. And of course you cannot leave Portugal without trying some wine from the Douro Valley!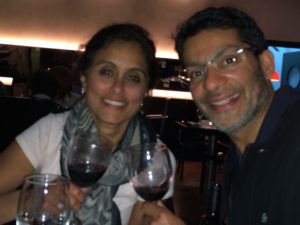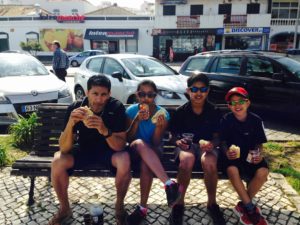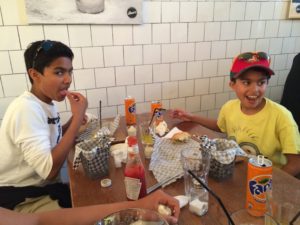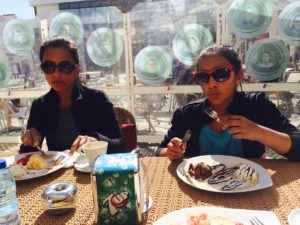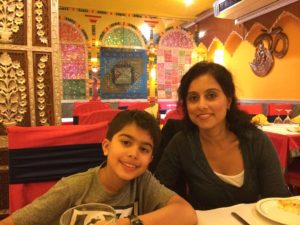 I hope you find this itinerary helpful when planning your trip to Portugal!
Please follow and like us: