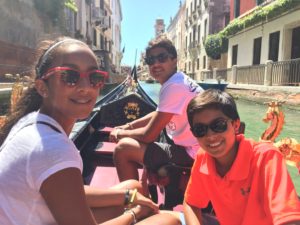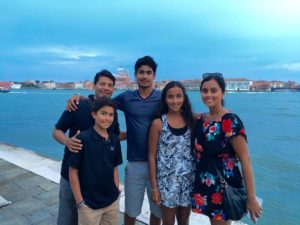 I'm sure many of you are busy trying to make plans for the summer. If any of you are planning to visit Italy, I highly suggest making a stop in Venice! My family and I have been to Italy three times and last summer was our first time in the beautiful city of Venice.  This enchanting city is situated in a lagoon on several hundred islands. The bridges and architecture make it one of the most unique cities in the world.
Is it kid friendly? 
Yes and no. I do not recommend visiting Venice with toddlers or children who require strollers.  It is not an accessible city. The number of bridges you have to go up and down are countless. In fact you won't be pushing a stroller, you'll be carrying it up and down stairs for 90 percent of your trip. So please save this city for before you have children or when they are at an age where they are fine walking. Our kids love to walk and they're older, so we just loved our trip!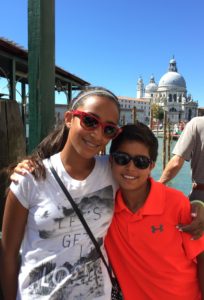 Where to stay and what to do in Venice?
I'll be honest Europe in general can be pricey, even more so if you are travelling with the family.  Most hotel rooms do not accommodate more than 2-3 people to a room.  If you are looking to maximize time, it's best to stay within Venice. If you're on a tight budget, then maybe staying just outside of Venice is a good idea. The average price point for a hotel in Venice is approximately $300 CDN. For my family that would equate to $600 CDN per night because we're a family of five.  Some of the big chain hotels will accommodate 4 or more, but they can be pricey. After doing the math, we thought we'd might as well stay at a 5 star hotel and pay slightly more and have us all in the same room.
Our family loves to go, go, go, but we also love to RELAX!!!!! Time for rejuvenation during a holiday is a must, especially when visiting one of the busiest cities in the world. Venice is a very touristy city, so there are a lot of people everywhere!! The evenings generally tend to be quiet and peaceful, but during the day it can get quite crowded. This is why we chose to stay at a hotel on a separate island.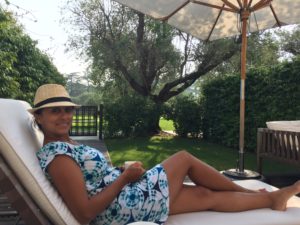 For this trip we decided to book ourselves a room at the JW Marriott Venice. This hotel chain seems to never disappoint, in fact, every location I have been to has been so unique and the level of service we receive has always been 5 star! At the JW Venice, you feel like a VIP from the moment you arrive at the hotel. We were picked up by the hotel's water shuttle service and the views of the property as we pulled into the dock were breathtaking!
Note: The water shuttle service into Venice is complimentary at the JW. This was a great advantage to staying at this hotel. Only downside to this hotel was that the food was very expensive. This is why we would often stock up on snacks from in town.
Tip for getting a good rate at any 5 star hotel: Book your room in advance at a cancellable rate and then a week or a day or two prior to leaving for your vacation book the non-refundable rate. The non-refundable rates are always better. I also recommend having breakfast included in your stay, especially if you are there with the family. It's better value to have it included rather than paying for it separately. Dining anywhere else in Venice would require taking a water taxi and that is the last thing you want to do when you wake up.
Here's how we scheduled our days

:
8am: Breakfast at JW Venice. The breakfast here is FANTASTIC!!! So many items to choose from including prosecco and mimosas!! Always opt to have your breakfast on their patio, the grounds and the views are stunning. The property also has a Michelin star-rated restaurant,Dopolavoro, by Chef Giancarlo. The beauty of this restaurant is that it has its own organic vegetable garden. We didn't dine here because they only had one vegetarian entree on the menu.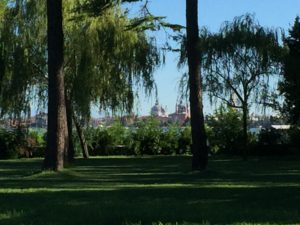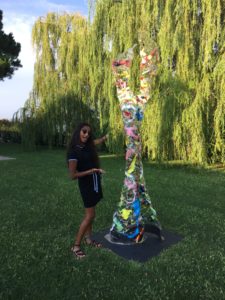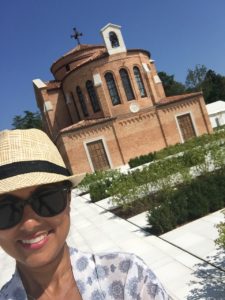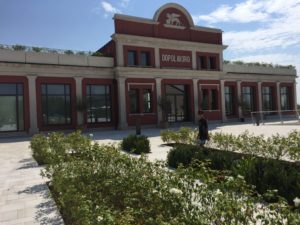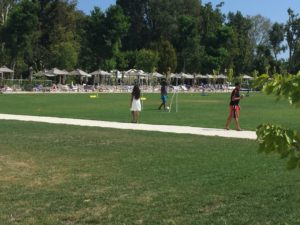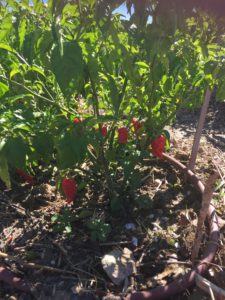 9:30am: Take water shuttle into Venice or Murano for exploring or we planned an excursion.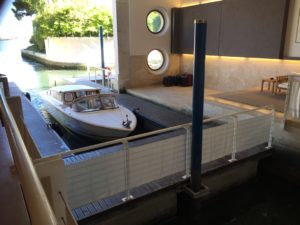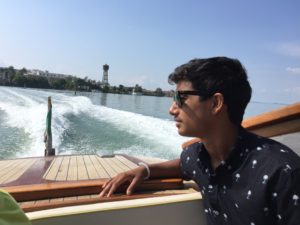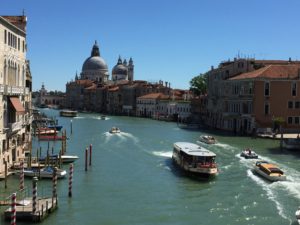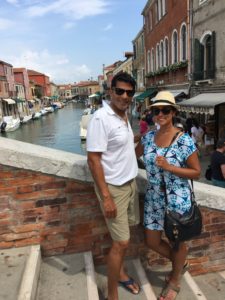 1pm: For lunch we would either grab pizza or caprese sandwiches to go from Venice before going back to the hotel or we would eat at the hotel. I will warn you that the pool side and lunch menu is a little pricey at the JW. We had food both at the hotel and in town, but mostly in town. There was more vegetarian selection in town for us. We did however find one day at the hotel at Sagra, their rooftop restaurant. The views from this restaurant of the lagoon, Venice  the hotel property are spectacular! We were very pleased with our meal, but it was pricey!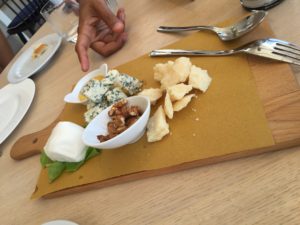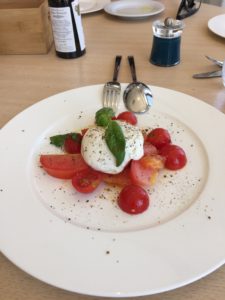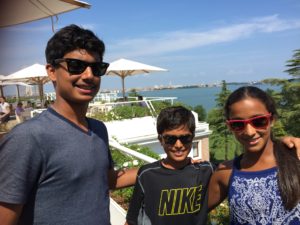 After lunch we would lounge poolside with the kids. August was very hot in Venice, so doing anything else would be crazy!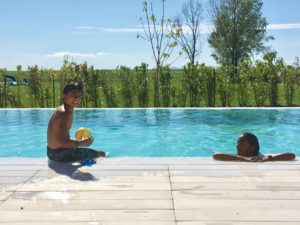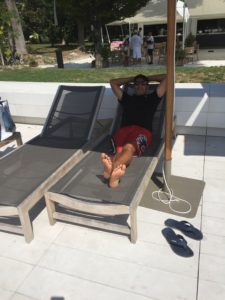 4pm: Go to room to nap and freshen up for dinner.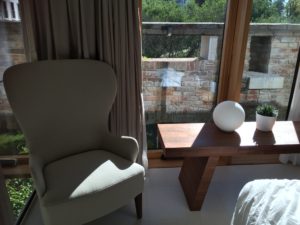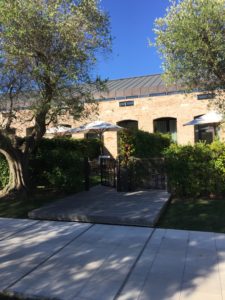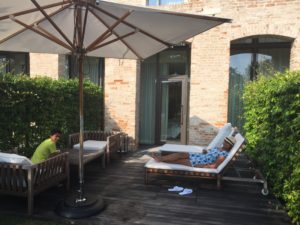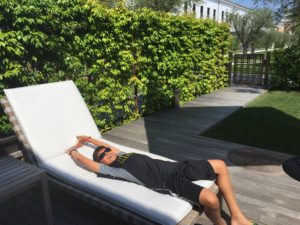 6pm: Take water shuttle into Venice for the evening. Enjoy watching the sunset and a delicious dinner at one of the many fantastic restaurants. NOTE: Every restaurant charges for water! We take this luxury for granted in North America. The water served is all bottled water, so it's not complimentary.
Vegetarian options are mostly pasta, pizza,  salad and vino of course! We were fine with that. I also loved having the infamous Italian cocktail the Aperol Spritz!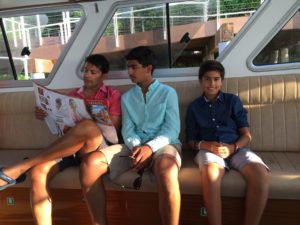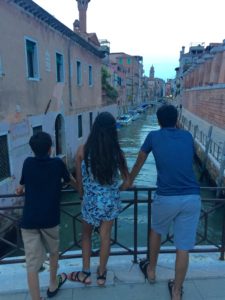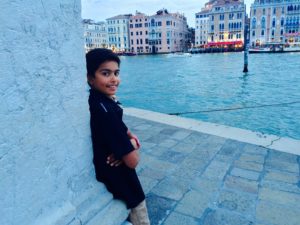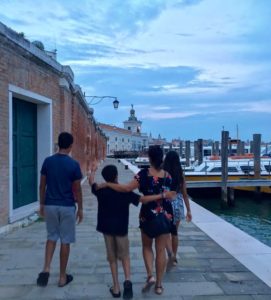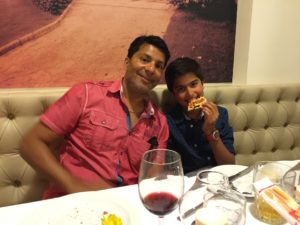 10:30: Take water shuttle back to hotel. The views of Venice at night are stunning!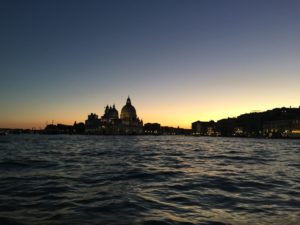 Top things to do in Venice in 3 days:
1. Walk around St. Marks Square also known as Piazza San Marco.  In the evenings you can watch and listen to singers and musicians. There is nowhere to sit unless you are wanting to dine on a patio at one of the restaurants.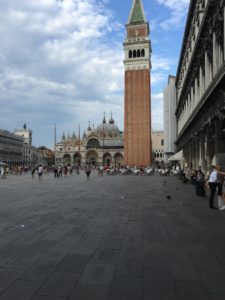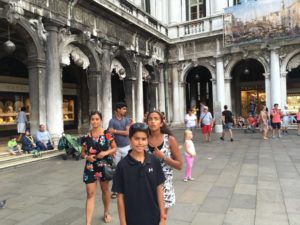 2.Take a gondola ride. This is a must do activity! Please don't cheap out. It will cost you between 80-100€. It's the best way to truly experience Venice. Going through the canals and under the bridges will be a very memorable and unique experience. You'll also appreciate the beautiful Venetian architecture. We got lucky with sunny skies the day we did our gondola tour.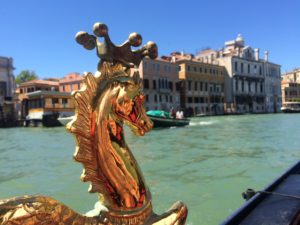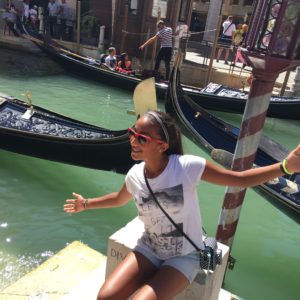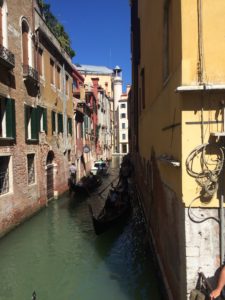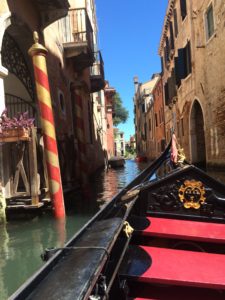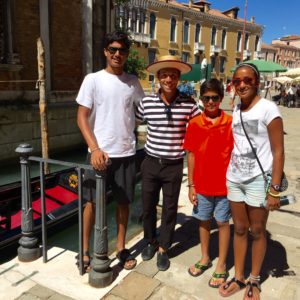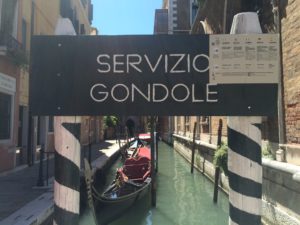 3.Visit Murano and take a tour of a glass blowing factory. The glass blowing factories provide free shuttle services from most hotels. They would like you to buy something, so why wouldn't they?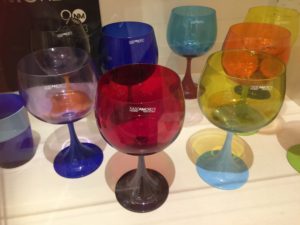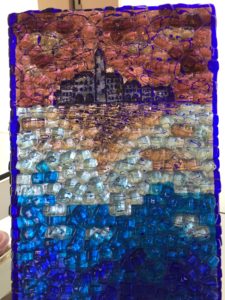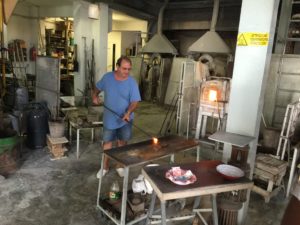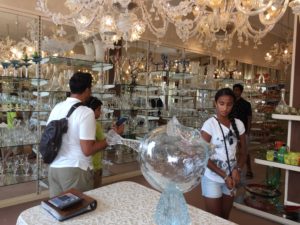 4. Go shopping!  Whether you want to shop for designer labels like Gucci or Salvatore Ferragamo or not, there is something here for everyone!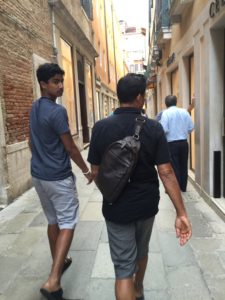 5. Dine on a patio or grab a slice of pizza or gelato at one of Venice's many restaurants! Food can pricey at the hotels, so I strongly urge you to eat in town and why not, you didn't come to just stay at a hotel.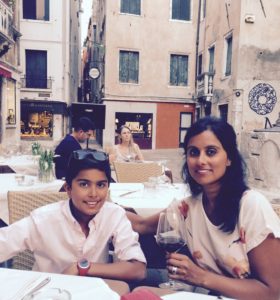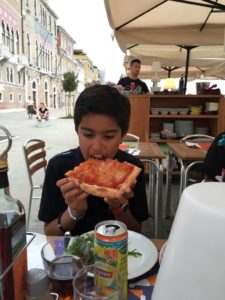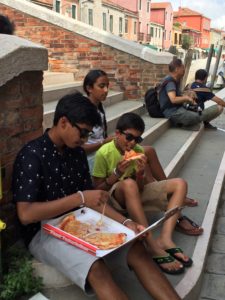 6. Just walk around and explore!! There are so many unique sights and sounds to be had. Lots of artisans on the streets singing, playing music or selling artwork. Visit the Peggy Guggenheim Museum if you have the chance. We didn't have the chance to visit, and I truly regret it!!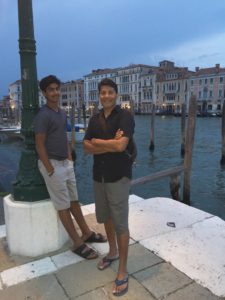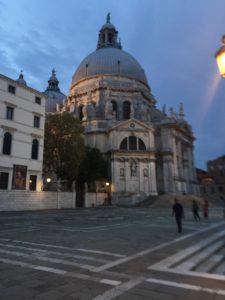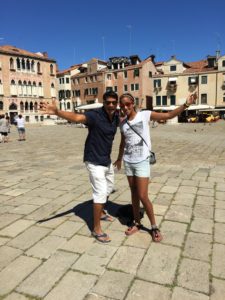 I can assure you that Venice is worth a visit and I would love to hear from you after you've been and if you found my blog useful!
Ciao!
Please follow and like us: