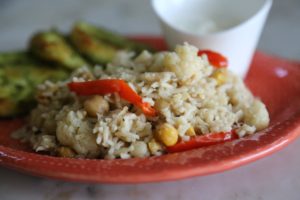 I had a very busy day today running errands and had very little time to make dinner. This rice pulao is a great dish to make if you don't want to do take out but want something quick and healthy. I'll also admit that it has been a gorgeous few days in Toronto this week, and on days like these the last thing I like doing is being cooped up in the kitchen!:)
---
Prep Time: 30 minutes Cook Time: 25 minutes  Serves : 6-8
Ingredients
2 cups Basmati Rice
2 cups Cauliflower cut up into small florets
1 can Chick Peas washed
1 Red Pepper thinly sliced
4 tablespoons Avocado Oil
3.5 cups water
1 Onion thinly sliced
1 tablespoon Ginger
3 large Black Cardamom
1 teaspoon Cumin seeds
Freshly ground black pepper
2 teaspoons Garam Masala
2 teaspoons Pink Himalayan salt
2 packs paneer cut into cubes or horizontal steaks
2 cups plain yogurt (keep extra yogurt if you would like to eat it with your rice)
3 tablespoons Cilantro/Mint chutney (homemade or store bought)
Directions
Heat avocado oil in dutch oven or large pot.
Sautée onions ginger and cumin together.
Once onions look slightly golden, add salt, garam masala, freshly ground black pepper, cardamom, vegetables and sautée on medium to high heat for 7 to 8 minutes.
Add rice and 3 1/2 cups of water
Heat rice on high heat until it boils. Reduce heat to low, cover and simmer for 15 to 20 minutes.
Rice Pulao should be ready. Gently use fork to mix and separate rice grains.
Serve with yogurt.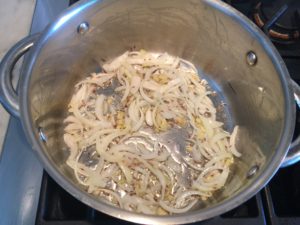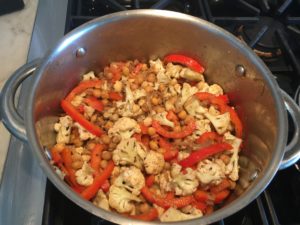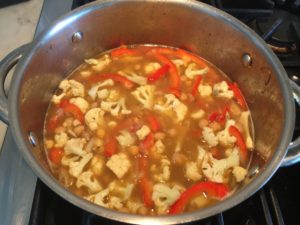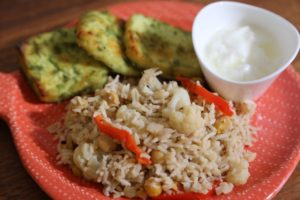 For Paneer:
Preheat oven to 425F. Mix chutney and yogurt together in a bowl.
Marinate paneer in chutney yogurt mixture. Ideally, if you have time, it's best to have the paneer marinate for a few hours to allow flavours to absorb. However, if you are short on time like me today, it will still turn out fine.
Line baking sheet with parchment paper. Place paneer on baking sheet and then into the oven.
Bake for 20-25 minutes turning sides after 10 minutes.
Once paneer appears golden brown, remove and serve.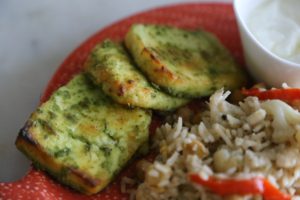 Please follow and like us: