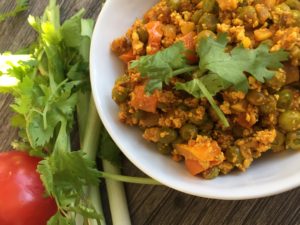 I cook with tofu at least once a week. Being vegetarian I try to use as many plant based protein options as possible. For anyone not wanting to eat eggs, tofu is the perfect substitute.  I like cooking this curried tofu as a side dish or as a brunch option.
---
Prep time: 15 minutes   Cooking time: 25-30 minutes    Serves: 4-6
Ingredients
1 package medium firm tofu (medium firm makes it easy to crumble)
3-4 tablespoons avocado oil
1 medium onion chopped
1 medium tomato chopped
3 cloves chopped garlic
1 tablespoon chopped ginger
1 tsp cumin seeds
1 tsp garam masala
1/4 tsp red chili powder (optional)
1 tsp tumeric
2 tsp pink Himalayan salt
2 tablespoons tomato paste
2 cups frozen or fresh peas
1 bell pepper chopped
1/2 cup chopped cilantro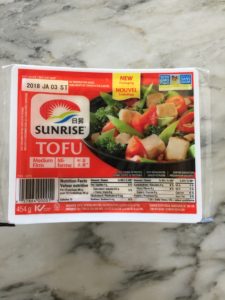 Directions
In a large fry pan heat avocado oil.
Add onions, garlic, ginger and cumin seeds. Heat and sautée until onions become light brown.
Add tomatoes. Sautée until tomatoes soften and mix well with the onions.
Add all dry spices to onion and tomato mixture and mix well.
Add tomato paste. Mix well. You can add some (1/4 cup) water to help in mixing the ingredients.
Add peas and bell pepper. Sautée for 5 -7 minutes at medium to high heat. Mix well.
In a sepatate bowl, crumble tofu by hand or with a fork. Add to peas and peppers. Mix well on medium heat for 5 minutes. Cover and lower temperature to low for 15 minutes.
Uncover, if there is alot of liquid, adjust heat to high and mix until liquid evaporates.
Garnish with cilantro and serve.
Please follow and like us: