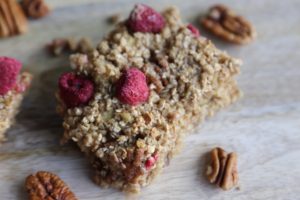 This is our "go to" breakfast on the weekends when the kids have to leave for swim practice at 5am. I usually make it the night before so there's no trying to figure out healthy options when we are all still half asleep.The kids love it before practice and again when they come back. I love it drizzled with some pure Canadian maple syrup with my morning coffee.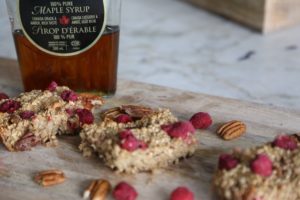 Not only does this dish taste amazing, but its healthy too! Eating whole grains such as oatmeal is great for lowering risks for high blood pressure, type 2 diabetes and it helps prevent heart disease. Oatmeal has been found to lower cholesterol and it's a great source of iron and magnesium. Being vegetarian, this is an added bonus!
I also love the fact that it keeps our bellies full until lunch, so it's great for losing or maintaining your weight.
---
Prep Time: 10 minute   Cook Time: 25 minutes  Serves: 6
Ingredients
4 cups rolled oats (quick oats work well too)
3 mashed ripe bananas
1/2 cup maple syrup
1 tsp baking powder
2 eggs
1 cup chopped pecans
1 cup fresh raspberries
1 cup skim milk or almond milk
2 tablespoons raw sugar (optional)
Directions
Preheat oven to 350F. Spray 9 x 12 inch pan with cooking spray or butter.
Mix dry ingredients together in a large bowl.
In a separate bowl combine and mix bananas, milk and eggs
Mix dry and wet ingredients together (save raspberries for the end).
When all ingredients have mixed well, pour into baking dish.
Top mixture with raspberries and sprinkle raw sugar on top.
Bake for 25 minutes.
Drizzle pure maple syrup on top and enjoy!
Please follow and like us: