The kids and I came home this afternoon to a surprise treat from my hubby… tickets to a Toronto Raptors game! ? Anyone who knows us, knows that my family is basketball obsessed to say the least.
Going downtown to watch a game also involves finding a nice veggie friendly place to eat. We decided to dine at E11even tonight. It's a great restaurant conveniently located between the Air Canada Centre and the Rogers Centre. It's a popular place to grab a bite before an event. The decor is trendy which makes for great ambience. Although there aren't too many vegetarian options on the menu, tonight most of my gang was craving veggie burgers, so we were in luck! E11even also has great salads and sides such as the truffle mac n' cheese.
The Veggie Burger
Emerald Kale Salad
Truffle Mac n' Cheese
After we filled our bellies, we walked a short 500m to the ACC to catch the Raptors practicing before they played Orlando Magic.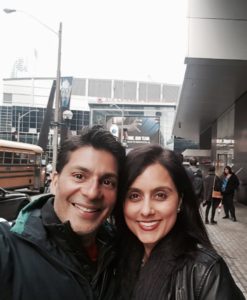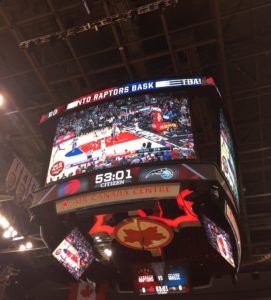 The excitement of the fans, watching the players practice, the music, the contests and free prizes make for a very fun filled evening.
I also love embarrassing my kids by trying to get on the jumbotron with my not so great dance moves! I've achieved this goal a couple times in the past.
We all love prizes!
In the end, the Raptors won, beating Orlando Magic  131-112! It made for the perfect end to a fantastic evening!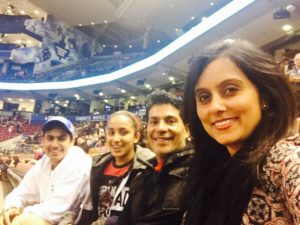 Please follow and like us: