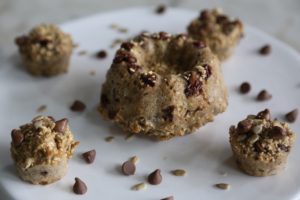 I had a little fun this morning whipping up this no flour banana bread recipe.  I love having healthy options ready to go when we are in a rush in the morning. This recipe is loaded with goodness. I added sunflower seeds, chia seeds and hemp seeds. There is absolutely no flour and no refined sugar. I ground instant oats in my vitamix to make my own oat flour. Quick and easy! It's a nourishing treat loaded with protein and it's delicious too!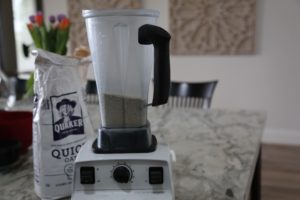 I added my latest find from Costco…MAPLE FLAKES!! Everyone who knows me, know that I have a weakness for spicy and anything with MAPLE!  I used the maple flakes for added sweetness on the top to give a sweet crunch. YUM!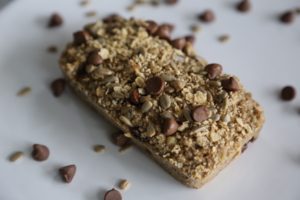 For some fun, I pulled out my kids baking supplies to make some cute bundt cakes and cupcakes with the batter. I found these years ago at Home Sense.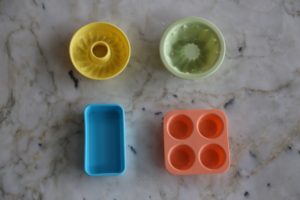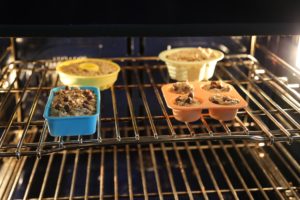 ---
Prep Time : 10 minutes    Cook Time: 25 minutes
Ingredients
3 cups instant oats (ground in a blender or Vitamix)
2 eggs
3 mashed bananas
1/3 cup maple syrup
1/3 cup almond milk any milk of choice
1 tsp pure vanilla extract
1/4 tsp baking powder
1 tsp cinnamon
1 cup chocolate chips
1 cup sunflower seeds
1 tablespoon chia seeds
2 tablespoons hemp seeds
1 tablespoon maple flakes (optional)
Directions
Preheat oven to 350F. Spray baking pan (loaf pan or cupcake pan) with oil or brush with butter.
In a large bowl, mix all dry ingredients together in a large bowl, except for sunflower seeds and chocolate chips.
In a separate bowl, mix bananas, eggs with all wet ingredients. Mix well.
Add chocolate chips and sesame seeds, keep 1 tablespoon of each aside for topping.
Combine banana mixture with oat mixture. Mix well.
Pour mixture into baking pan.
Sprinkle extra sunflower seeds and chocolate chips on top. In a bundt pan, I sprinkled the chocolate chips and sunflower seeds in the bottom of the pan.
Optional : Sprinkle maple flakes if you have them, or you can also sprinkle raw brown sugar.
Place in oven for 25 minutes. Check with toothpick. If toothpick comes out clean, cake is ready.
Enjoy!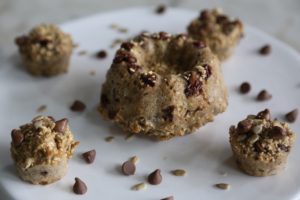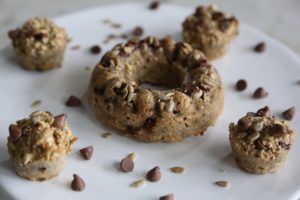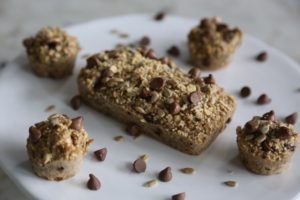 Please follow and like us: