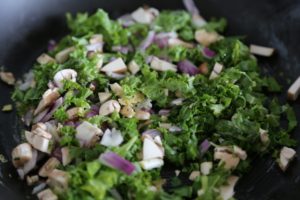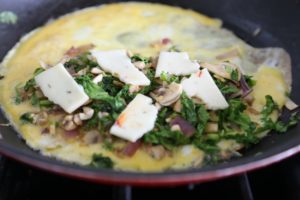 I just love omelettes! They are usually my go to lunch/brunch option if I'm short on time. They are healthy and a great way to get the kids to eat vegetables.
This weekend I made mushroom and kale omelettes and they turned out so amazing I just had to share. My fifteen year old loved them so much I made him two!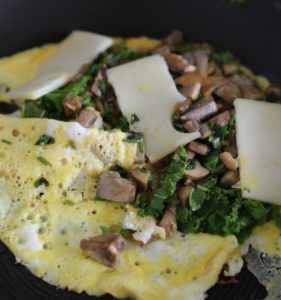 ---
Prep Time : 10 minutes     Cook Time : 8 minutes       Serves : 6
Ingredients
2 eggs per person, whisked or beaten ( for adults I usually use two eggs per omelette, for kids I use one egg)
1 medium onion chopped
4 cups chopped kale
2 cups chopped mushrooms (any variety you like)
1/2 cup cilantro/coriander
Jalapeno or Swiss cheese
1/4 tsp Pink Himalayan salt
black pepper (optional)
1 tsp per omelette Avocado oil (you can brush it on the pan)
Directions
Heat oil in pan and sauté onions, mushrooms, kale and cilantro for 5 minutes on high heat.
Add salt and black pepper or red chili pepper if you like to have it spicy.
Transfer vegetables into another dish and use same pan to make omelettes. The mixture is good for 5-6 omelettes Rinse and wipe pan before making omelettes.
Heat 1 tsp oil and add whisked eggs at medium heat. Once eggs have spread evenly on the pan add 2 generous tablespoons of vegetable mixture on half of the omelette.
Add cheese and close omelette and flip.
Cook for 2-3 minutes until cheese appears to have melted and both sides of the omelette look slightly brown.
Ready to serve!
*Vegetable ingredients in this recipe are enough to serve 5-6 people.
Please follow and like us: