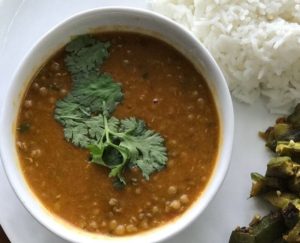 If you have a crock pot (slow cooker) this recipe is very easy. I love using a crock pot because it makes my dals taste even more authentic. When I would visit my Nani (grandmother, mom's mom) in India as a little girl, I would go to the Tandoor Wala (the man in the neighbourhood who prepared naan/ rotis/ dale and other dishes in a clay oven) with our own pot to get freshly made dal. This dal would be simmering in the tandoor all day. We would also take our own dough and have him make fresh chapatis/rotis for us too.
The flavour you get from cooking your dal in a crock pot mimics the flavour you would get from cooking your dal in a tandoor. So let's get started!
---
Prep Time: 15 minutes
Cook Time: 5 hours (if using crock pot, 1 hour if using pressure cooker)
Serves: 4-6
Ingredients
2 cups Moong Dal (green in colour)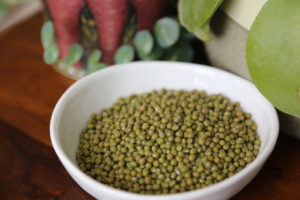 6 cups water (May need to add depending on how powerful your crock pot is. Always add boiling water, not cold)
4 tablespoons Avocado Oil
1 medium onion finely chopped
1 large tomato
2 cloves chopped garlic
1 tablespoon finely chopped ginger
3 tablespoons tomato paste
2 teaspoons Pink Himalayan or regular salt (add more or less according to taste)
1 teaspoon Garam Masala
1/4 teaspoon Tumeric Powder (Haldi)
1/4 teaspoon Asafoetida Powder (Hing) *optional, I use it to prevent bloating and gassiness 🙂
1/4 teaspoon Red Chilli powder (optional)
1 teaspoon cumin seeds
1/4 cup chopped cilantro
1 teaspoon Kasoori Methi (optional, I love it!)
Directions
Add Moong beans and boiling water to crock pot and turn on high. *If you are placing your dal in the crock pot in the morning and won't be home until the evening, place the crock pot setting on low, otherwise you'll come home to a pot of dried up lentils.
Look at the consistency of the dal. If it looks too dry, add more boiling water. Consitency should be just slightly thinner than a chowder.
Feel the moong beans, if they have softened, they are ready to be seasoned.
Heat the avocado oil in small fry pan.
Add cumin seeds, onions, garlic and ginger.
Once onion mixture has turned golden brown, add tomatoes and fry for 5 minutes on high heat.
Add all spices/dry ingredients and mix well.
Add tomato paste and mix. If it appears to thick, add a 1/4 cup of water and simmer on high heat until ingredients appear to have mixed well.
Add mixture to dal in your crock pot.
Garnish with cilantro and serve.
Enjoy!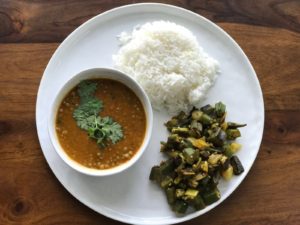 Please follow and like us: