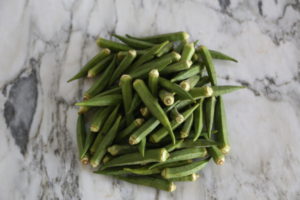 I have always loved my mom's okra growing up, so that's the recipe I plan to share with you. I tweaked it a little by adding one ingredient at the end. The key to making amazing okra, in my opinion, is not to over cook it and not to cover it while your cooking. I love my okra to have a slight crunch and not to be SLIMY! Hope you enjoy this recipe as much as my family and I do!
---
Prep Time: 20 minutes     Cooking Time : 30 minutes     Serves: 5-6
Ingredients
6-8 cups chopped okra (chop so that okra is 1/2 inch in size)
2 medium onions chopped coarsely
6 tablespoons Avocado Oil
1 teaspoon chopped garlic
1 tablespoon chopped ginger ( I love ginger!)
2 teaspoons cumin seeds
2 teaspoons Pink Himalayan salt
2 teaspoons Tumeric
1/2 teaspoon red chilli powder (optional)
2 teaspoons chana masala (my tweaking ingredient!)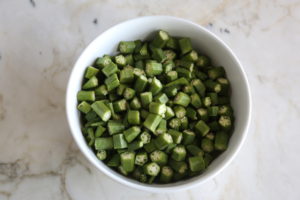 Directions
I cook my okra dish in two steps. I first sauté the onions and then in the same pan I sauté the okra on its own. I mix the two together at the end.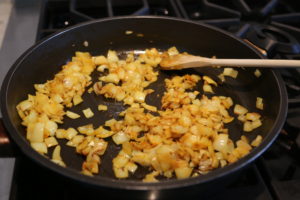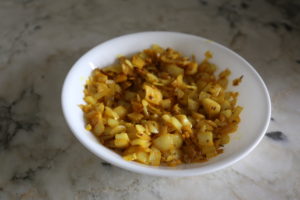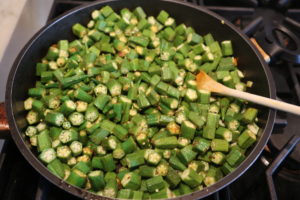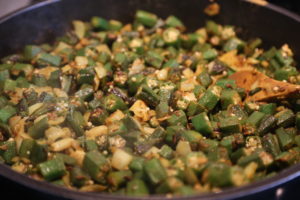 Heat 3 tablespoons avocado oil in a large pan or wok.
Add 1 teaspoon cumin seeds and onions, ginger and garlic.
When onions appear to be translucent, add 1 teaspoon salt, 1 teaspoon turmeric and 1/2 teaspoon red chilli powder (optional).
Mix and remove from heat when spices have coated onions. Place onions aside in a separate dish.
Heat remaining oil in the same pan.
Add cumin seeds and remaining spices, but do not add Chana Masala.
Add okra and stir and coat with all the spices.
Cover okra for five minutes, just to give it enough steam to soften slightly.
Uncover and mix and keep on heat for 15 minutes.
Add onion mixture and mix.
Add chana masala and mix well, keeping care not to mash the okra.
Once okra and onions have been well coated, allow to cook for 2 minutes on medium to high heat. Do not cover.
Remove from heat.
Enjoy!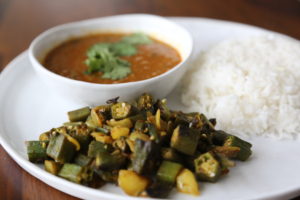 Please follow and like us: