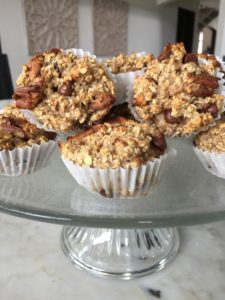 Coming up with yummy and healthy snacks ideas can sometimes be a challenge.  I experimented with some recipes earlier this week and these muffins were a hit with all three of my kids. This recipe requires zero oil or butter. The greek yogurt takes care of keeping the muffins moist.
My kids loved these muffins in the morning before their 5am swim practice and right after school. Because they're loaded with oatmeal and pecans they are quite filling. Everyone at my house is in training mode this month for track and field, marathons and triathlons , so I am trying my best to come up with healthy treats without compromising the taste!
I love using pecans because they are so low in carbs!  For 1/4 cup of pecans, there's only 2g of carbs and 3g of protein!! My favourite nut!!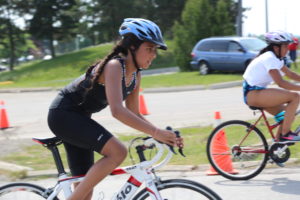 ---
Prep Time : 10 minutes         Cook Time : 20-25min    Makes 18 small muffins
Ingredients
5 cups rolled oats (instant oats are fine)
3 ripe mashed bananas
2 large eggs
1 1/2 tsp baking powder
1 tsp cinnamon
1 cup maple syrup
1 cup pecans
1 cup chocolate mini chips
2 cups Greek yogurt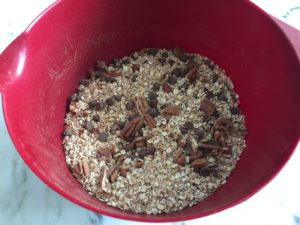 Directions
Preheat oven to 350F. Prepare muffin pan by spraying cooking spray or with parchment liners and set aside.
Combine all wet ingredients (mashed bananas, eggs, maple syrup and yogurt). Mix well.
 Add oats and baking powder to mixture. Mix well.
Add pecans and chocolate chips.
Pour batter into muffin pan.
Bake for approximately 20 minutes.
Please follow and like us: