Ever since we visited Key West, Florida, this year, my family and I have been hooked on key lime pies. I'll admit its hard to find anything even remotely as good as what we had in Key West, but the one I'm sharing with you today is pretty good!
I love cooking, but I am not so much of a baker. I'm more of a savoury gal than a sweet one!;) So if I can bake a key lime pie with the recipe I'm sharing with you, it must be fool proof! Haha!
After much experimenting with recipes online, and adding some of my own variations, I finally came up with a recipe which is super easy and has been approved by many friends and family!  I love coconut and so does my hubby, so I thought it would be nice to add some coconut shavings to the recipe too. It adds a nice texture to every bite.
---
Prep Time : 10 minutes    Cook Time: 8 -10 minutes     Serves: 8-12
Ingredients
12 mini graham cracker crusts or 1 (9 inch) prepared graham cracker crust
1/2 cup sour cream
3 cups or 2.5 cans of sweetened condensed milk ( I used the low fat version)
3/4 cup freshly squeezed lime juice
1 tablespoon grated lime zest
thinly sliced lime for garnishing
1 cup unsweetened desiccated  coconut (I prefer unsweetened because the condensed milk is very sweet)
Directions
Preheat oven to 350 degrees F
In a mixing bowl, combine sour cream, condensed milk, lime juice, lime rind and 1/2 cup of coconut.
Mix well and pour into graham cracker crusts.
Bake for 7-10 minutes without browning. Once filling starts to bubble, remove from oven and allow to cool.
Chill pie(s) for a couple hours before serving.
Garnish with remaining coconut, lime slices and whipped cream
Enjoy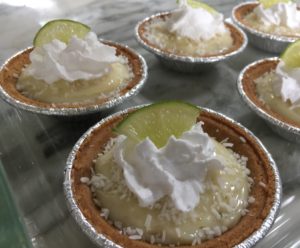 Please follow and like us: