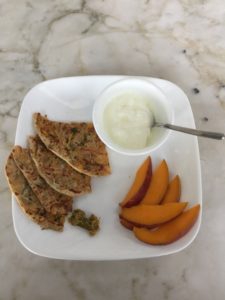 Coming up with healthy and delicious vegetarian meals can often be a challenge.  As a vegetarian, I find being of East Indian origin a big plus! Indian cuisine consists of a lot of vegetarian dishes. As a child, one of my favourite dishes would be the classic paratha! If you aren't familiar with what this is, it's an Indian flatbread.  My mom would make stuffed parathas on the weekend with any vegetables we liked. The most popular ones you'll find in an Indian restaurant today are aloo (potato), gobi (cauliflower), mooli (white radish) and paneer (Indian cheese). My all time favourite is the MOOLI PARANTHA!!!
Lately I've been bombarded with carrots from my local organic food delivery. So I thought I would experiment and make a paratha using heirloom carrots. I have to say heirloom carrots just made this dish a little more gourmet. They are so beautiful to look at when grated. To make it a little more interesting I added some paneer (Indian Cheese).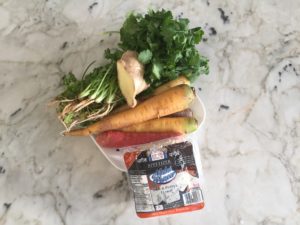 ---
Prep Time: 30 minutes       Cook Time : For 12 paranthas 45-50 minutes  Serves : 6
Ingredients
4 cups grated carrots
375g crumbled paneer
1 tsp Pink Himalayan Salt
1 tsp Ajwain (helps with digestion)
1 tsp Garam Masala
1/2 cup chopped cilantro
1 tablespoon grated ginger
6 cups whole wheat duram atta flour
2 cups water
1/2 cup Avocado Oil
Directions
To make the dough I usually use my Kitchen Aid Mixer with the kneading attachment, but you can easily knead the dough by hand too.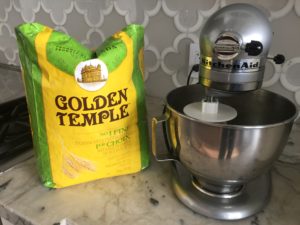 Slowly combine 5 cups flour with water in a large mixing bowl.  Keep 1 cup for dusting the dough later. Knead for 8-10 minutes to form soft dough. You'll know the dough is ready if nothing is sticking to the bowl. I usually cover and store my dough in the fridge for about ten minutes before I start making the parathas. I find the dough is a little tighter and easy to handle this way.
To make parathas:
In a large bowl crumble paneer. Add grated carrots, ginger, cilantro, and spices. Mix together with paneer.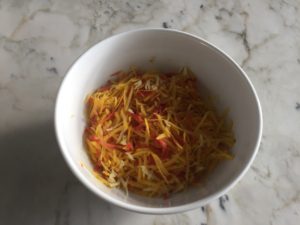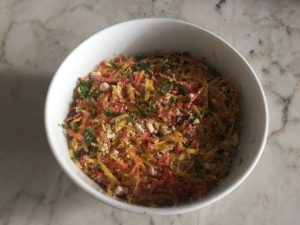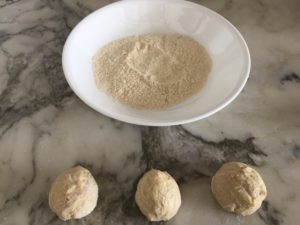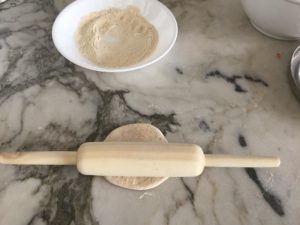 Take dough out of fridge. Place dough on lightly floured work station and divide dough into 12 parts. Basically make 12 golf ball size dough balls.
Heat a heavy bottom tava, griddle or skillet on medium high temperature. Cast iron fry pan is good too.
Dust rolling board or counter lightly with flour. Use rolling pin to roll dough ball into thin circle about 2" (roughly 5 cm) wide. Pick up the circle and use both your hands to thumb down the edges.
Roll dough again about 1″ (roughly 2 cm bigger) Place handful of carrot and paneer mixture onto circle and take edges and pinch them together to close.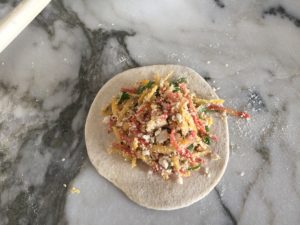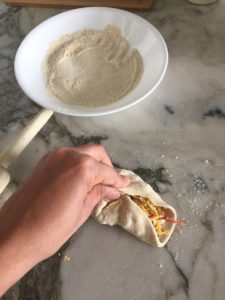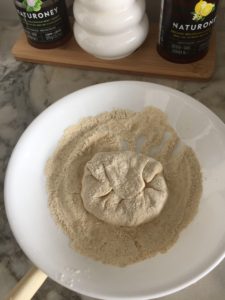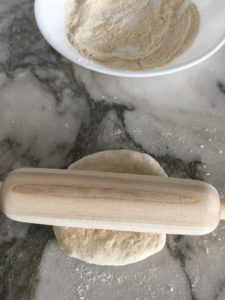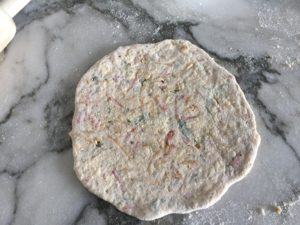 Lightly dust dough while rolling to prevent sticking.
Place rolled parantha on tava/hot skillet. Cook for about 15-18 seconds or until it starts to change colour and small bubbles break the surface. Use spatula to flip. Lightly brush with avocado oil. Cook other side for 15-18 seconds. Flip. Brush avocado oil on this side now. Use spatula to press down on the parantha to cook it well. Flip parantha again if you need to. You'll know the parantha is ready if both sides look slightly crispy.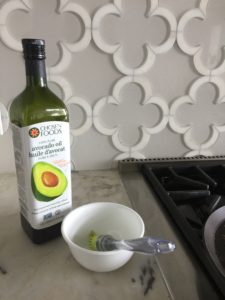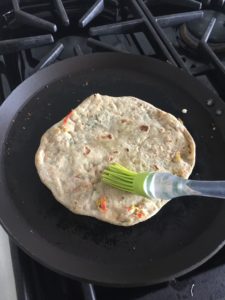 Remove from heat. Wrap rotis in parchment paper and aluminum foil to keep warm. Serve with plain yogurt and Indian condiments. My favourite condiments are by Patak's. You can find their jars in the international foods isle in most grocery stores.
ENJOY!!
Please follow and like us: