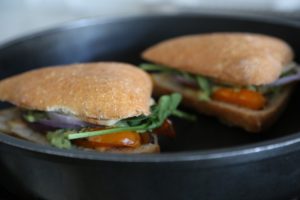 Sandwiches for dinner? Why not?  My kids are training for track and field and swim meets this week, so they need the carbs. I had a bunch of ripe avocados sitting on my counter today, so I thought why not use them in a panini sandwich for dinner tonight. This recipe is great on so many levels. It's healthy, yummy, quick and easy!!  It's such a great dinner option if you are tight on time and want to get some veggies into the kids.
I always have my fridge stocked with avocados and peppers and my freezer stocked with ciabbatta buns. So tonight's dinner was a no brainer. My soup from the other night came in handy too.  I always make enough soup to last a couple meals. I vary what I serve it with so my family doesn't get bored. My black bean soup from the other night complimented our avocado, pepper and spinach panini sandwiches perfectly!
---
Prep Time 15 minutes      Cook Time: 7-8 minutes      Serves : 6
Ingredients
whole grain ciabatta buns
1 large grilled sweet pepper sliced
1 small red onion sliced
2 small avocados
2 cups baby spinach
1/2 teaspoon pink himalayan salt
1 tablespoon cilantro
1 lime
1 jalapeño pepper (optional)
Monterey Jack Cheese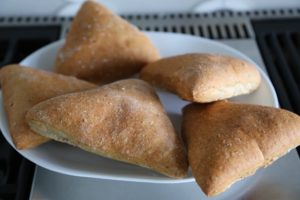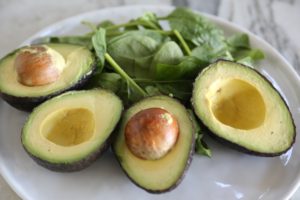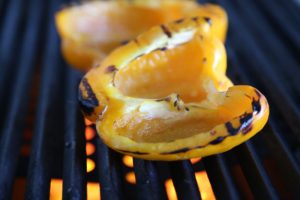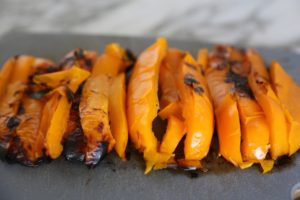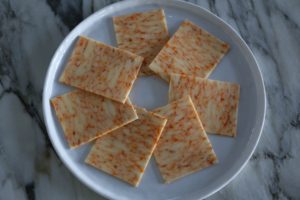 Directions
Mash avocados in a bowl to make a simple guacamole by adding salt, cilantro and lime juice. Mix well and put aside.
Place one slice of cheese on base of bun.
Top cheese with peppers.
Top peppers with guacamole and sliced onions
Layer spinach onto guacamole and onions.
Place one more slice of cheese onto spinach and cover with other half of the ciabbatta bun.
Heat a large fry pan to medium heat or heat panini press.
Brush olive oil on the bun and place in fry pan or panini press.
If using a fry pan, use a spatula to press down on the bun. Heat the sandwich evenly on both sides while pressing down.
Once cheese appears to have melted and bun appears to be crispy, remove from pan or press and serve.
Enjoy!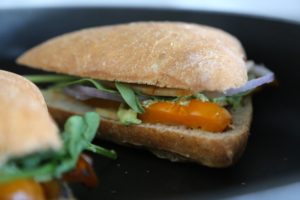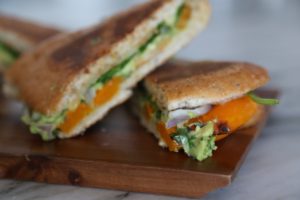 Please follow and like us: