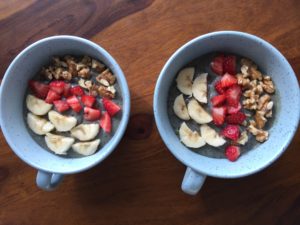 I've gotten hooked on smoothie bowls for breakfast and my kids love them too! I love them because their healthy and delicious. I honestly feel like I'm eating melted ice cream when I'm eating the smoothie bowl I'm sharing in this blog. Hope you enjoy it as much as I do!
---
Prep Time: 10 minutes           Cooking time: 2 minutes              Serves: 2-3
Ingredients
1 avocado
1 cup frozen or fresh blueberries
1 cup spinach
1 heaping tablespoons plain Greek Yogurt
1/2 -1 cup coconut milk or almond milk (watch consistency, needs to be thick but thin enough to pour out of the blender)
1 banana
For Toppings: You can use ANYTHING
chopped strawberries
blueberries
nuts (walnuts) & coconut shavings
granola
Directions
Blend all ingredients together for 1 minute. Mix if all ingredients don't appear to have gotten chopped and blended.
Pour into bowl and cover with toppings.
Enjoy!
Please follow and like us: