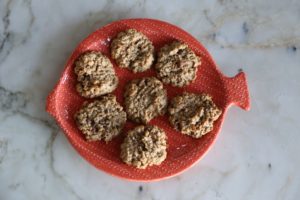 I'm trying to steer clear of desserts, but sometimes I want a little something after dinner. So I am experimenting with some healthier dessert options for after dinner , my morning coffee or for my 2pm coffee break! The number of times I look for something sweet during the day, I need to be careful and come up with healthy options.
My daughter and I set up our test kitchen last night to experiment with almond butter. We were pleasantly surprised with the results. I'll admit, I'm usually better at cooking savoury than sweet, but I am improving quickly!
This recipe uses no refined sugar. All the sweetness is from the almond butter, chocolate chips and I used maple syrup for added sweetness. The best thing about this recipe is that it's quick. From start to finish, it didn't take us more than 30 minutes. For my vegan friends, there are no eggs, milk or butter used in this recipe.
I hope you all enjoy this recipe as much as we do and I would love to hear your feedback!:)
---
Prep Time : 10 minutes    Cook Time: 10-15 minutes   Makes approximately : 18 medium sized cookies
Ingredients
2 cups rolled oats ( I used instant oats)
2 cups almond butter
1 ripe mashed banana
1 cup maple syrup
1 cup chocolate chips
1/4 teaspoon baking powder
1 tsp vanilla extract
Directions
Preheat oven to 350F.
Line cookie sheet or pizza tray with parchment paper or spray with cooking spray.
Mix all ingredients together in a large bowl.
Using a spoon or small ice-cream scooper make small balls and place on cookie sheet.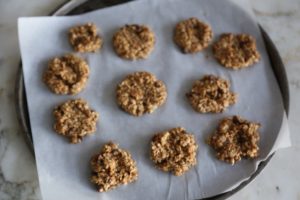 5. Using a fork press down on the cookies to flatten.
6.Bake for approximately 10 minutes until edges of cookies start to look golden brown.
7. Remove from oven and let stand for 2 minutes before serving so they retain their shape.
8. Cookies will be delicious and chewy!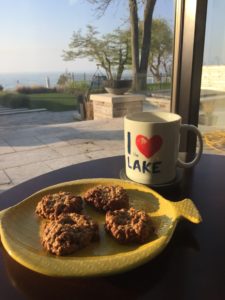 Please follow and like us: